The NorthStar Horizon is unique among S-100 machines because the motherboard is more than a passive backplane.  The Horizon's motherboard contains circuitry for two serial ports and two parallel ports (one in, one out).  There are voltage regulators on the motherboard that supply power to the serial and parallel circuitry, and they also provide the power for the two floppy drives.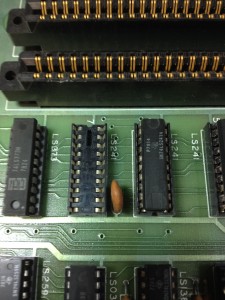 My motherboard had the same corroded IC pin issue that I found with the CPU board.  A quick brush with a glass pen took care of that.  While taking great care to make sure each IC was put back in the correct socket with the correct orientation, I discovered that the original builder had inserted a socket in backwards.  Trying to de-solder the socket and put it in the right way round could potentially cause damage to the board, and with an IC in the socket, the incorrect orientation isn't noticeable.
While the motherboard is out of the machine, I took the time to note the jumper settings for the serial ports – knowing the serial configuration will certainly be useful when it comes time to talking to the machine 🙂  The first serial port is configured for 9600 baud, and the second serial port is configured for 1200 baud.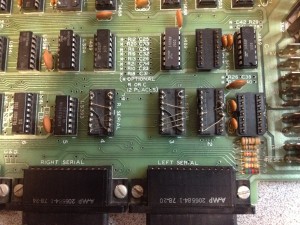 These values seem like a reasonable place to start, so I'll leave them alone.
Next, the capacitors needed testing.  There are three 6.8μF tantalum capacitors on-board.  All of them measured within tolerance.  The ESR (equivalent series resistance) seemed a little high, but a quick search of Digikey shows ESR values for modern tantalum capacitors for this value ranging from 2 to 8 ohms.
| Capacitor | Value | ESR |
| --- | --- | --- |
| C3 | 6.9 μF | 3.44 Ω |
| C7 | 7.7 μF | 6.55 Ω |
| C10 | 7.3 μF | 1.85 Ω |
I then brought up each of the power rails with a current-limited supply to make sure there were no shorts.
| Rail Input | Rail Output | Current Draw |
| --- | --- | --- |
| +8v | 5.00v | 500mA |
| +16v | 11.85v | 80mA |
| -16v | -11.49v | 50mA |
I now have to wait until I've reconstructed the linear supply in the chassis before I can re-install the motherboard. So far, everything is looking good.