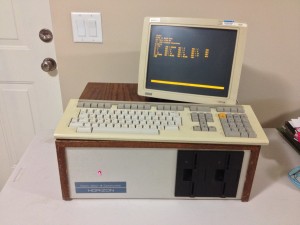 That's it for Retrochallenge 2014. I didn't get everything done that I wanted to, but I'm still very happy. I finally got to scratch an itch that I've had since 1977 – I now own my very own S100 machine. I would pour over the latest issue of Byte magazine and drool over the latest S100 board that had been released. There was no way I'd ever be able to afford one of these amazing machines, so my computing itch had to be scratched by my Compukit UK101.
So what did I accomplish during the month of July? I was able to fully disassemble, test, and restore the electronics of a NorthStar Horizon. I managed to get a working boot disk on media that is almost unobtanium. The most iconic part of this machine – the wooden case – still needs some love. I still have one broken memory card, which I am going to use as the reason for not getting any further. I have spent the last week trying to get Kermit-80 transferred and running. After running into buffer overrun errors while trying to transfer the big HEX file, I broke it up into smaller chunks, which transferred successfully. I was able to stitch the pieces back together using PIP. But no matter how many times I tried, I was unable to get LOAD or MLOAD to confer the HEX file to a binary. Tonight I started looking at the hex file a bit closer. From my rudimentary knowledge of Intel HEX files, it looks like the last few bytes are at address 0x7070. That's 28k – real close to my 32k ceiling. No idea how much RAM CP/M needs, but I doubt that I've got enough memory to have CP/M, MLOAD, and the hex file all in memory at once.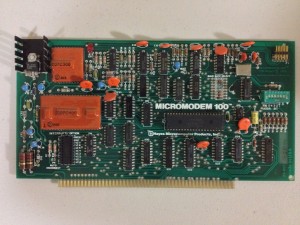 What's next? I fully intend to get the second 32k memory running – I have a bus extender board and plenty of appropriately-aged test gear. Once I'm back to a full compliment of RAM, I really want to get the Hayes Micromodem 100 running. Watching Tezza's Retrochallenge demo code bring up text on the screen at teletype speeds really brought back memories of BBSs at 300 baud.
I've had loads of fun. I've really enjoyed watching all of the other entries, and some of them have given me some ideas for the Retrochallenge Winter Warmup… Bring it on!