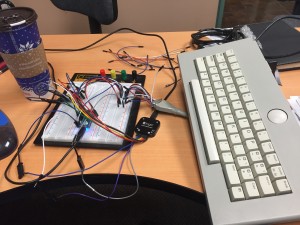 After struggling with various methods of level shifting to convert the TTL 5v logic of the keyboard to the 3.3v logic of the Teensy, I decided to take a step back and wonder exactly why I was struggling with level shifting. Did I really need to use a 3.3v device? Things were so much simpler when everything was 5v logic!
A quick investigation showed that there is an Arduino that is 5v logic and also supports HID – the Arduino Micro. After waiting a few days for my order to show up, I was away to the races with 5v logic. About an hour later, I had the keyboard interfaced to the Arduino Micro, and my logic probe showed that I could scan the matrix and detect key presses.
There's 6 outputs to scan the keyboard matrix, and 2 inputs – one for Control, Shift, Break, and one for the rest of the keyboard.
Now that the hardware side is locked down, I now need to write a lookup table to convert the POKEY scancodes into HID key presses.